Blacksmith produced my (middle Yorkshire) pork

Safe and Comfortable quality that grew up eating in-house piggery
Available to firmly trace (tracking) how born, what they ate, how they were brought up
Blacksmith produced my (middle Yorkshire) pork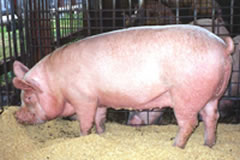 1.Three yuan pig obtained by multiplying the middle York
Varieties that are available under the brand pig that we grow "my pork blacksmith produced" is a hybrid of "medium Yorkshire species". The middle Yorkshire species, unlike the cultivar "L.W.D" of common pork, almost no handling in the modern production focused in mass production, so it is a very valuable varieties. Modern almost no handling in the production that put the specific gravity to mass production, it is very valuable varieties. Features medium Yorkshire species differ greatly from the typical pork, there is absolutely no pork distinctive smell, lean meat finished in meticulous, there is a very tasteful sweetness. Also, there is the taste melt away in a mouth due to the low melting point of fat.
2.Healthy pork that were fed the yeast fermentation feed
The livestock which was fattened up with yeast fermentation feed, the unsaturated fatty acid level is healthy high, and fatty meat with the sweetness is formed deliciously.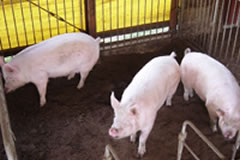 3.「Carefully fattening of biological aging pig」
It is biological aging pig extended the fattening period with feed contained a few calories.